Prologue
On 19th July, 2008 we held our first event. Initially the project was supposed to be a "little open air for about 200 people", but only a few days after the initiation it transformed into "Let's rock! — the biggest open air of the year".
At that time Omsk club life was suffering a dramatic fall. Some major and universal clubs — "XL", "Citrus" had closed. The remained ones were divided into 2 camps: underground and premium clubs. Their customers were two completely different types of people: in their views, values and financial capacity.
Premium level places were offering good service, rich bar list, OK food, but they had nothing to do with the club culture in general and its musical component in particular. The guests were "sold" some ordinary Moscow DJs as eminent musicians, who played either commercial house or remixed pop.
Sometimes art-directors could go even further and write "The Voice of David Guetta" on the poster with "David Guetta" in bold and the word "voice" hardly noticeable. And people went, confident that Guetta himself would perform, although, no Guetta, of course, could be there. It was just a vocalist who sang "The World is Mine" for him once.
Thus, premium clubs were just draining money from ignorant "bohemia". Social function of increasing musical education of residents was surely out of the question.
Underground clubs were totally opposite. The music was "right", but these clubs could not provide even a mid-level service: events often took place in filthy places, there were several positions of alcohol of dubious origin, and cuisine was absent as a class.
Thus, on Omsk club market a certain split was formed and the audience divided strongly — wealthy public went to premium places, youth subcultural groups went to underground.
And all the rest — thousands of students and young specialists who had both money and a taste for good music, were left aside. There wasn't a place for them.
As for open air events, everything was almost the same here, as these events were held by owners or art directors of those clubs. Premium open airs slipped "eminent" DJs to their public, and underground were held dozens of kilometers away from the city somewhere in abandoned factories.
Systematically both parties were breaking their promises. So, when the organizers advertised to provide 30kW of sound, in fact it was hardly 10kW. When they promised "unprecedented light" — there were only a few barely-alive entry-level light appliances with dead lamps.
In general, any open air was always a kind of gamble for visitors. Nobody really knew if the event would actually take place, whether everything would be as it was stated, wouldn't it be "like the other time". On average, each such event attracted 500 people.
Of course, one of the reasons for the low quality of such events was lack of professional knowledge and attention to details. But above all, the organizers didn't seem to be interested in learning and trying something new. The crowd was coming and that was enough.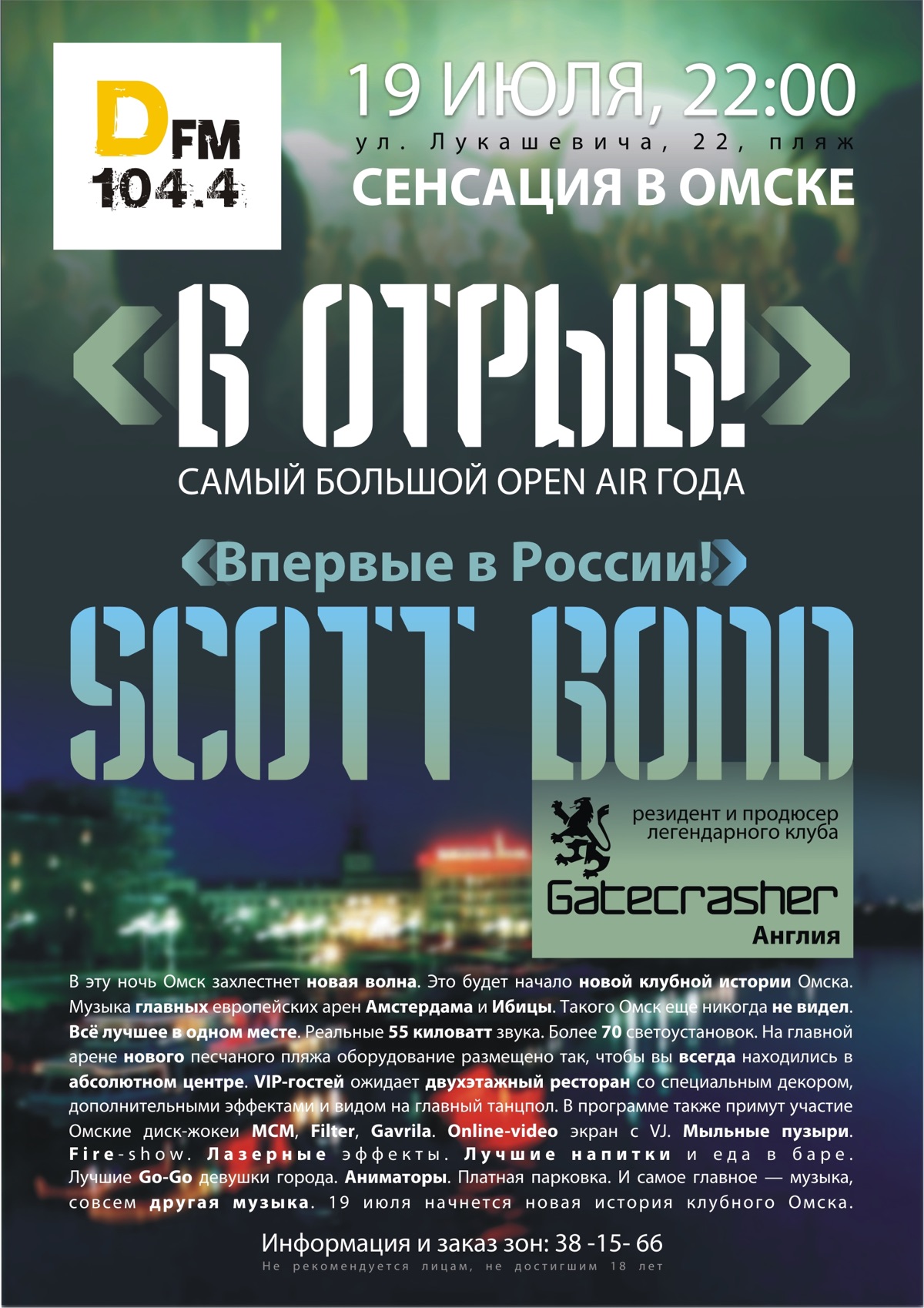 Creating "Let's rock!" we wanted to fill this existing gap with something completely new, qualitatively different. From the very beginning the event was supposed to be mass, for everyone, for a wide range of people — for those "ordinary people" who just wanted to have a good time and attend a high quality European level event.
We announced unprecedented sound power, the one that had never been used in any similar project in the city — 55 kW. And we fulfilled this promise.
Besides that, we engaged almost the entire light arsenal, which was available in Omsk, polished visual direction and management of the event, organised parking lots and fully-equipped bar. The lineup was built thoughtfully — "from house through trance to techno" to cover all musical audiences.
Many distributors were discouraging us: "Are you out of your mind? Why so much equipment? What if nobody comes?". Reputed promoters were sincerely laughing at us saying that we couldn't make it. Especially in the city centre, especially at night.
The headliner of the event was announced British trance DJ, one of the founders of a legendary British club "Gatecrasher" — Scott Bond. Scott Bond had played in all the venues around the world but it was his first trip to Russia.
Trance was a very risky decision for Omsk public. People weren't familiar with the music. It's faster than house, nobody knew "how to dance to it". In Europe though trance music had been a headliner of all major festivals for 20 years. The first twenty of DJMAG was divided mainly between trance DJs: Tiesto, Armin Van Buuren, Ferry Corsten, Markus Schulz and others.
We set up an unprecedented advertising campaign. Although people were suspicious about the event because till the end they couldn't believe that everything would be exactly like we announced, but they were greatly interested. And there wasn't a person in Omsk who didn't know about the upcoming "Let's rock!".
During the advertising campaign we didn't know what we were going to face, we expected to gather a thousand, maybe 1,500 people, but the guts were telling us that something global was coming.
The venue was then little-known beach "Admiral" on the left bank, which later would become one of the main areas in the city for such events. Specially for "Let's rock!" we brought 16 truckloads of new sand. The total energy capacity of the event, considering a large number of light appliances and sound power amounted to 250 kW.
Visitors could enjoy several bars, video screens, and, for those who bought VIP tickets, there was a two-store restaurant where guests could peacefully observe what was happening.
About 200 people took part in the preparation of the event — promoters, performers, bartenders, light and sound operators, dancers, animators, installers. Also, many Omsk companies acted as partners of the event.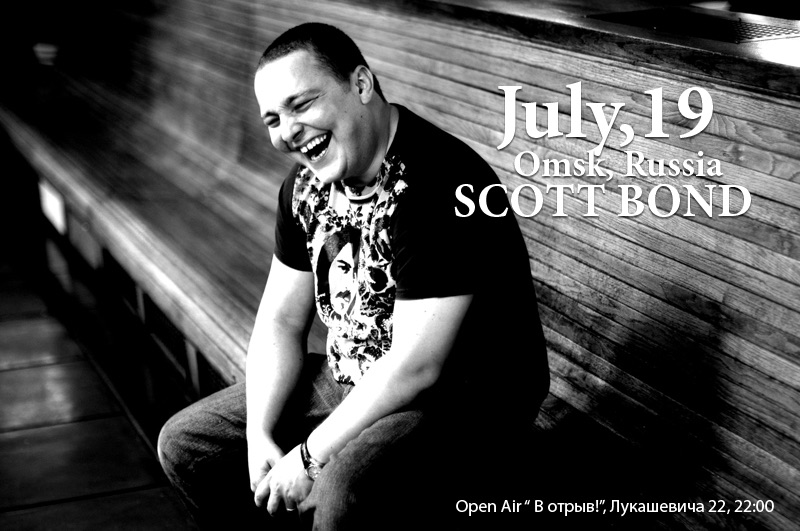 Scott arrived in Omsk a day before the event. We showed him round the city, visited several places, and walked along the embankment. That night the streets were full of people, many of them recognized Scott, took pictures with him and asked for an autograph.
Day of the event
Despite a little rain at night, from the very morning the sun was shining hiding behind heavy clouds occasionally and the newly brought sand was drying up от the beach. The venue was being set up at a full speed. All the staff was messing around bringing in stage constructions, bar constructions, sound and light, video-screens, kilometers of different wires. Bartenders, adjusters, performers - everybody was preparing their places.
And when everything was installed and ready and only two hoursleft until the start, a terrible thing happened. Black clouds showed up on the horizon. They were covering the whole right bank of the river and it was clear that the storm would be strong and most likely fatal for the party.
Some people tried to deny the obvious, pretending not to notice the upcoming storm they were encouraging each other:
— Well, it doesn't seem very strong, it will be over fast.
— Yeah, it might go that way, — поддерживали друг-друга бармены.
A few minutes later, dark blue sky crossed the river and hung over the beach. A second later, it started to pour. Vertical streams of rain shattered the earth with all the power, usually sunny Omsk turned gray. The event must have failed.
The rain stopped in an hour and a half. There were twenty minutes left until the start.
Let's rock!
Nevertheless, at 10 p.m. sharp the first dj Filter started to play. At that moment the number of guests on the venue was zero. After 40 minutes since the event was on, the situation hadn't changed — there was still nobody there.
Suddenly, around 11 p.m. first people started to appear. A phone was coming to life little by little and then became hot. People were calling and asking if everything would take place, whether they should go.
Then it all developed vigorously:
11:30 p.m.: 300 people
12:00 a.m.: 700 people
12:30 a.m.: 1,000 people
1:00 a.m.: 2,000 people
1:30 a.m.: 4,000 people.
By 2:00 a.m. there were about 5,000 people on the venue.
Scott Bond after 12 (!) beers and also some cans of Red Bull stepped behind the decks. First 15 minutes were scary — people didn't understand how to dance to trance, they were shuffling about and exchanging glances. But in half an hour the venue was unrecognizable — the crowd was just roaring.
Police and security officers had to hold people and call for backup, but not because of aggressive actions of the crowd but because they were literally climbing onto the stage to be next to Bond, to acoustic areas, bar constructions — people were dancing everywhere. Some of them were crying.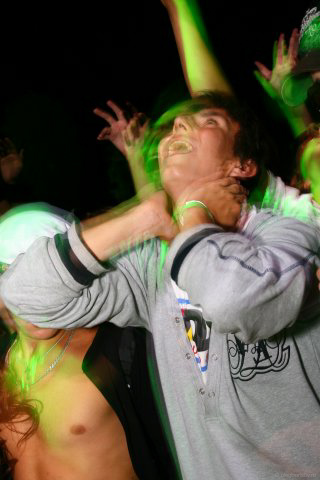 Lightning was sparkling around the city, but in the event area there wasn't any rain. The crowd of five thousand people was in ecstasy.
Bond was encored three times and each time everything went over and over again. When he finally finished, 20 police officers had to lead him to the exit encircled, because the crowd was raging, wanted hugs, autographs and pictures so much that it literally started to threaten him. They wanted to tear the musician apart.
Forty minutes later, made it through five thousand people, Scott was taken out of the territory where a car to the airport had been waiting for him. Here a remarkable thing happened. A high-ranking police officer, who was supervising security of the whole event, approached Scott and feeling embarrassed and shy he said:
— Mr. Scott Bond, I liked your music a lot. Would you mind signing and taking a picture with me?
Bond went to the airport and the show was continued by Omsk crowd puller DJ Gavrila. Next hour and a half the crowd was experiencing hard porn techno.
The morning
Let's Rock! finished at 5:26 in the morning. Fluffy sand had been turned into asphalt and the venue itself looked like it'd been a war. Cleaners were collecting flat cans and cups, installers were slowly taking down the stage, bartenders were counting drawers.
We were sitting in the car in the middle of the venue with doors open and seats reclined in absolute silence. That was it.
Two hundred thousand calls
The event got a huge resonance and great public feedback the next day. We were given the highest mark for the organization.
Of course, many residents didn't manage to fall asleep that night due to extremely strong sound spreading around through the water surface of the river to each and every part of the city. On some forums, people who didn't take a risk to come to "Let's rock!" and therefore just observed it via social networks wrote the following:
«I live near the railway station (~ 1 km from the venue - author's note). It bumps as if they came to my yard and threw a party there».
«СLukyanovka (~ 10 km from the venue - author's note). The windows in the apartment are shaking».
That night there were nearly two hundred thousand (!) reports to the police. A month later because of "Let's rock!" Omsk authorities imposed a ban on mass events within the city limits.
The beginning
Anyway "Let's rock!" took place and finished. It became the starting point of the musical adventure that we signed the city up for during the following 5 years. "Let's rock!" became a kind of standard for us, our inner quality level that we stuck to and tried to outrun. Many ideas applied in "Let's rock!" were embodied in future projects.
"Let's rock!" de-facto became the biggest club event in the whole history of Omsk. Many clubbers still agree that it was the best event of all times. Some even branded it to remain the best in future.
Do you have photos or videos from this event?
Please contact me to negotiate the terms of me getting them.
Venue
Admiral Beach
Lukashevicha, 22, Omsk
Main idea
To hold the biggest open air
Artists
Scott Bond, The United Kingdom
MCM, Omsk
Filter, Omsk
Gavrila, Omsk
Guest reviews
— that was a rocking Open !!! )
— Well, that was just amazing!!! I'm afraid of going to other open airs now, guess they will seem suck!
— Now you will finally realize why people in Europe are so positive, they listen to good music!)))
— Open air worked! That was awesome!!! Best open))))))
— Just want to say one thing - that was fucking great))) want to repeat)))
— What can I say about this open! I will say one thing! Scott Bond! And England!!!
— Trance is challenging music. You need to grow to it. I didn't understand it before that night. I just needed to feel it and get high.
— As for quality, absolutely no claims on that - security, light, sound, animation, show - all on a higher level…
— In one word - CRAZY!
— That was awesome...we really ROCKED!
— That was mind-blowing, not Omsk-like!!!!)))))))
— GUYS! That was brilliant! Scott Bond is a mega-man!
— I was in trance and unconsciousness, and that was definitely not because of alcohol)
— That was Omsk's first time in Europe!))))) Scott is gorgeous, I thought I would be burst!) Maybe it's finally the time for Omsk to have such parties!)))
— That was amazing!!!!!!!!!!!!!!!!!!!!!!!!!!!!!
— That was SOMETHING ! ! ! I'm still digging this music as hell ! ! ! Bond is a killer - I barely went away! That was the best on point MAGAparty of the year ! All who didn't come - you didn't just lose a lot - you lost everything!
— It was crowded as FUCK!!!
— mmmmmmm, all was shit-hot. Trance is euphoria….tonight, Omsk is just "kazantip"
— That was amazingly cool. Beautiful. Happiness, Happiness, Happiness!
— I realized what real trance is.