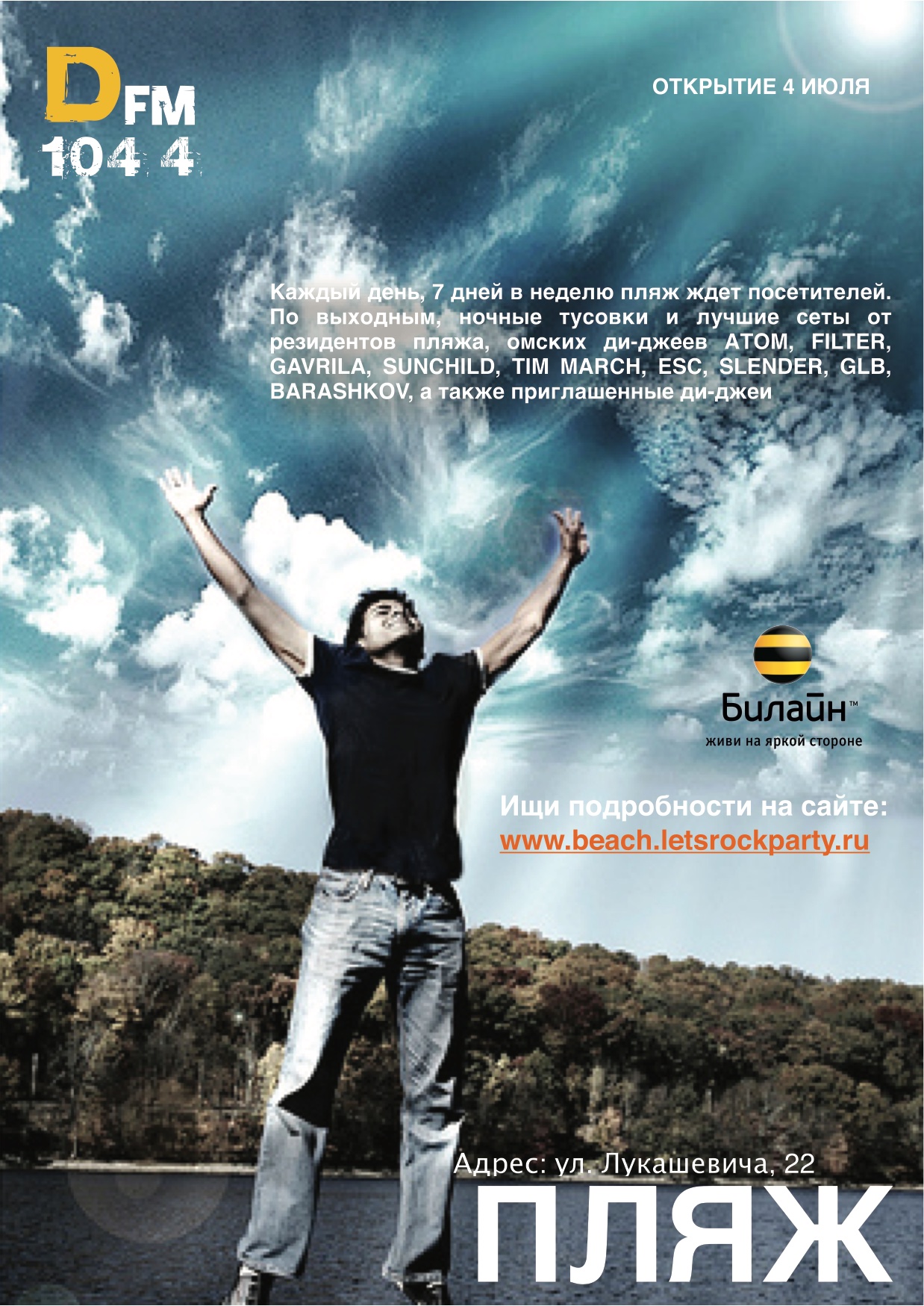 In July right after "Heat", another summer project "Beach" started on the private beach "Admiral". The one where in 2008 "Let's rock!" took place.
During the day, visitors had everything for a good beach rest: sunbeds, terraces, grills, sport facilities, two storey cafe with Caucasian cuisine. At night it turned into an open air club.
In total, it had 15 crazy parties with almost all famous Omsk DJs. A special rush and the biggest turnout was for parties with most famous Omsk techno DJ Gavrila, who played three "benefits" in a row.
Apart from that, we organised the first in the history of the city "Cinema Open Air". On the big screen at night guests watched old classic club films: "Human Traffic" и "G:MT Greenwich Mean Time".
And although the summer was not very sunny and authorities were constantly putting a spoke in wheel because of too loud music which, like at "Let's rock!", spread through the water surface of the river, the event attracted 4,000 people.
Next year came the second season of the project.
Do you have photos or videos from this event?
Please contact me to negotiate the terms of me getting them.
Dates
July, 4 - August, 28, 2009
Venue
Beach "Admiral"
Lukashevicha St., 22, Omsk
Idea
Open air parties every day
Performers
Gavrila, Omsk
Filter, Omsk
Atom, Omsk
Gradus, Omsk
Barashkov, Omsk
Tim March, Omsk
Glb, Omsk
Esq, Omsk
Sunchild, Omsk
Check, Omsk
Slender, Omsk
Keys, Kemerovo