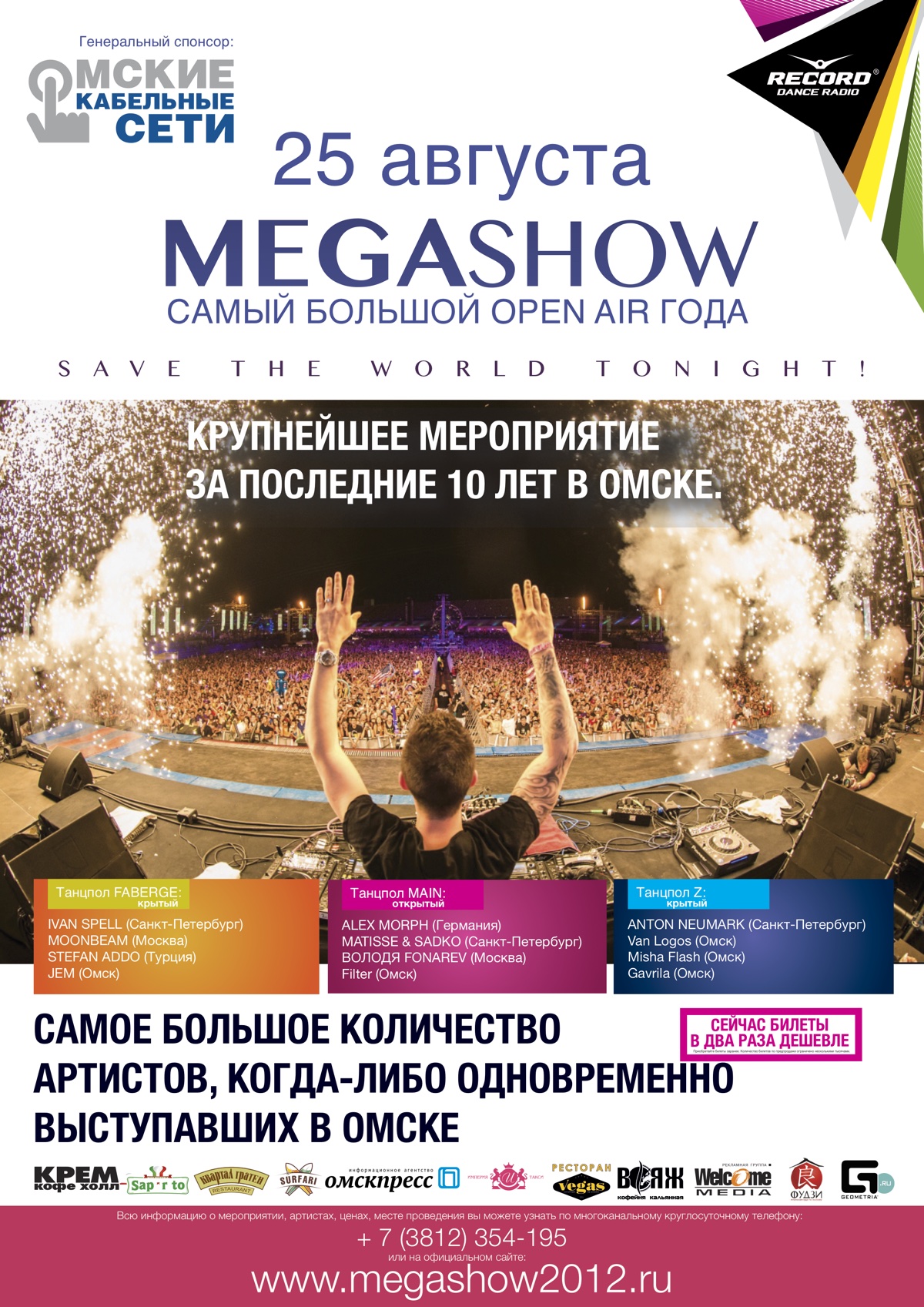 After a two year long break we announced "Megashow".
For "Megashow" we wanted to gather all the best from previous shows, all our experience and also add the things that, for some reasons, we couldn't deliver before.
We aimed "Megashow" to break various records. And it did. The number of performers — there were 11 of them. The number of dancefloors - 3. Two of them were indoor to protect people from the rain. Sound power - it amounted to 150 kW. The amount of sound - by that time Omsk lessors had equipment Rider available for hiring with 2kW lights and the whole stock of these appliances was used for "Megashow". Finally, the number of guests — we expected 7 000 people to visit the event.
The budget of "Megashow" was 4 times more than the budget of any other previous project. We set up unprecedented, probably the biggest advertising campaign that Omsk ever saw.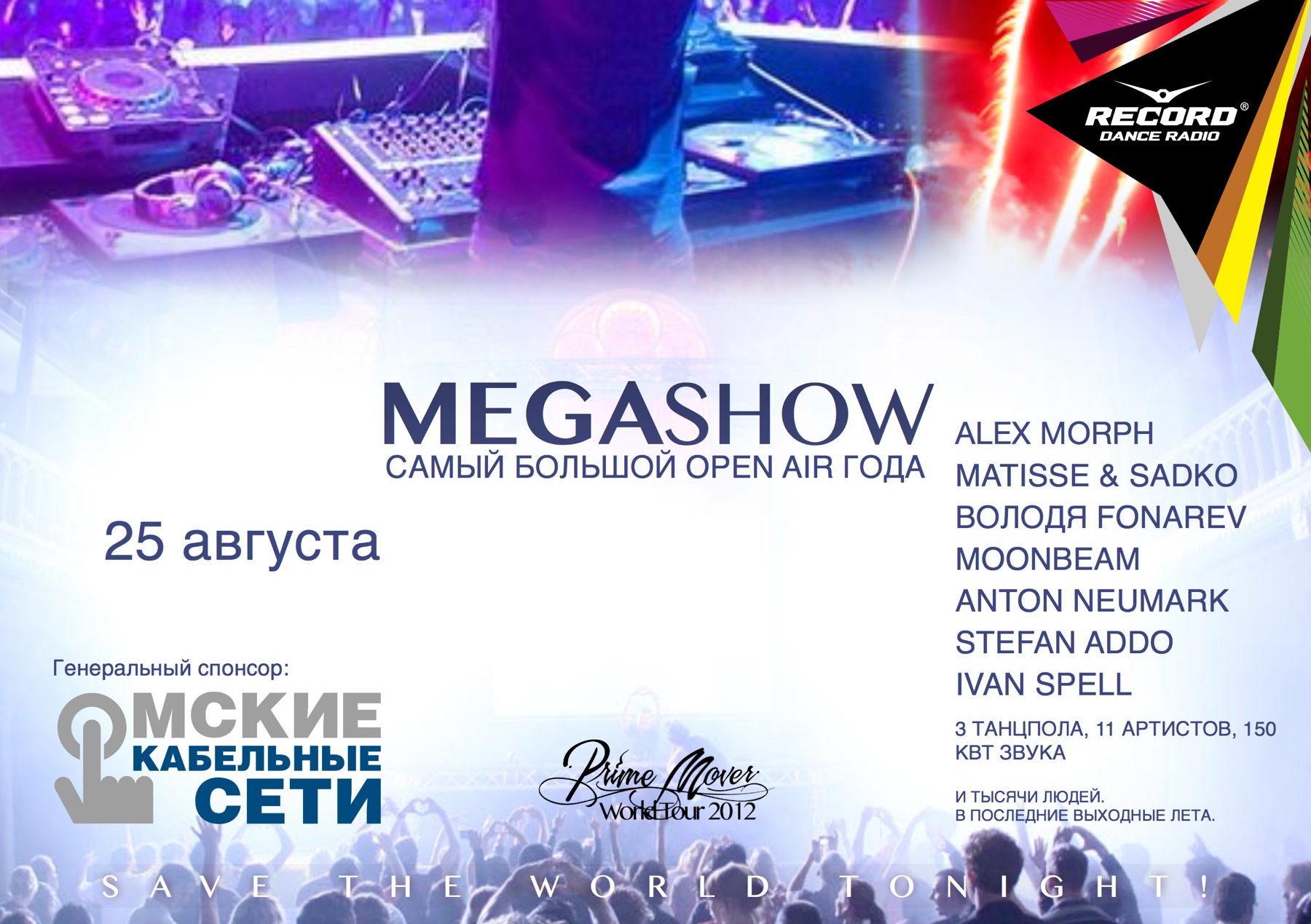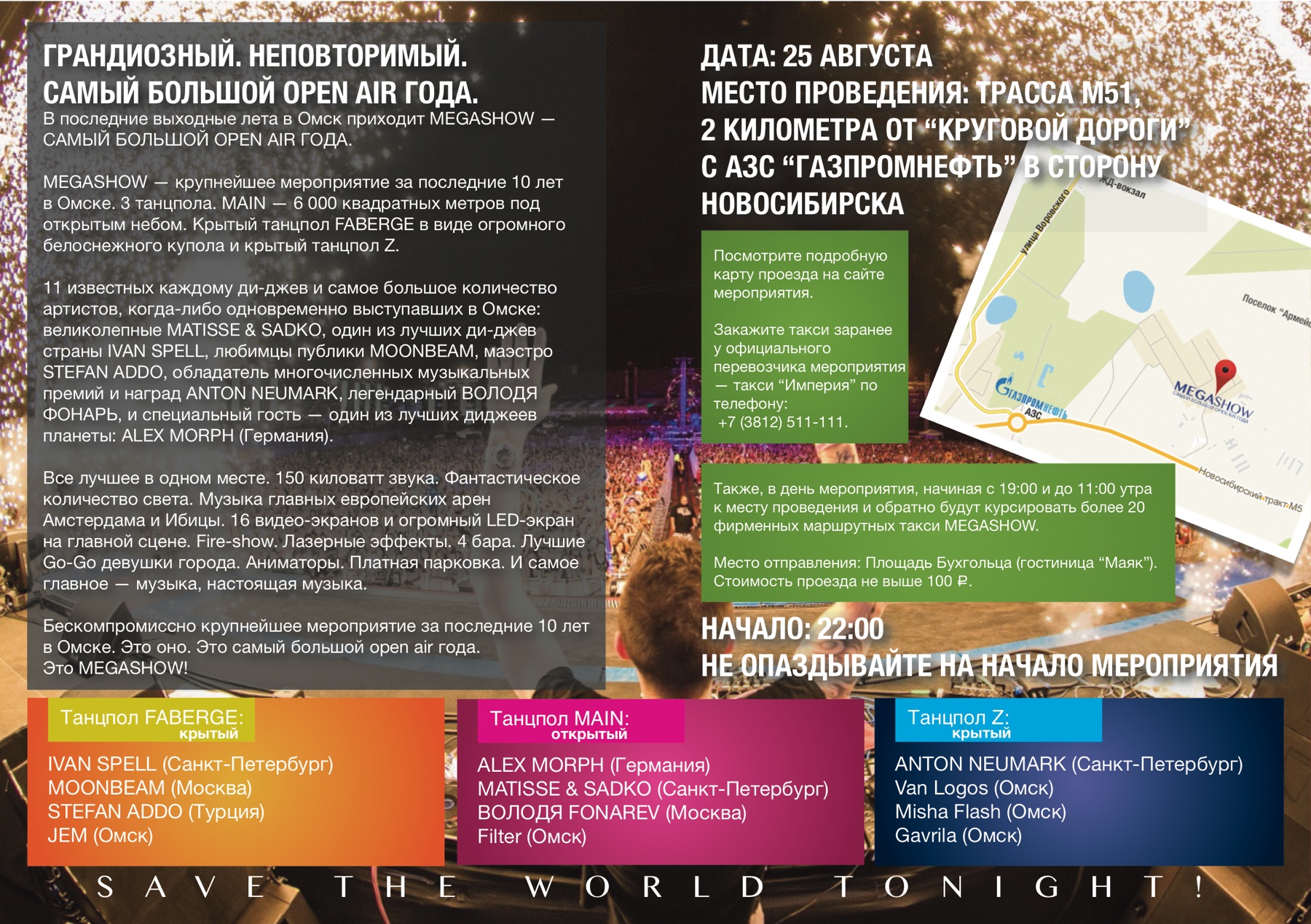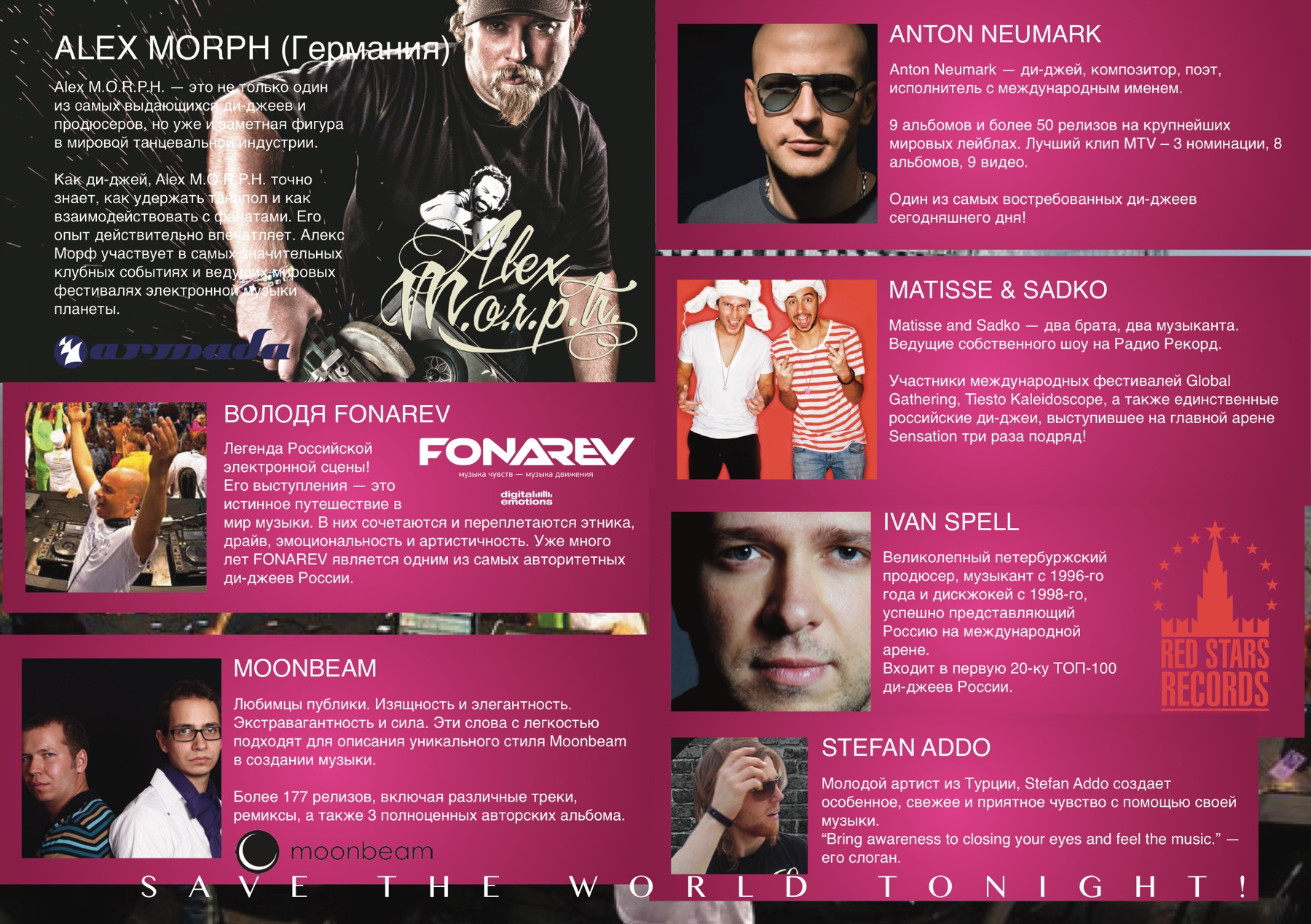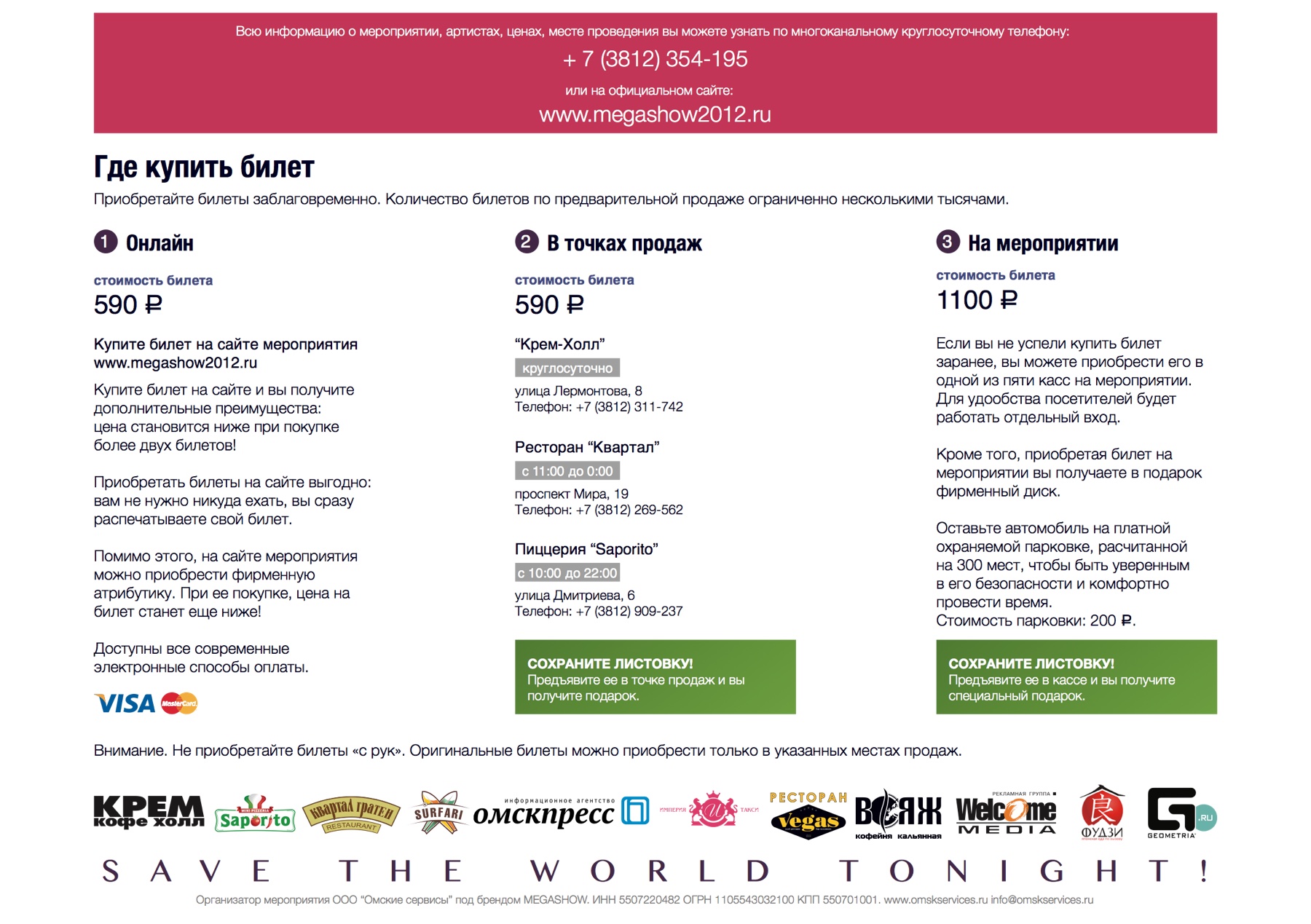 "Megashow" became the first event which used e-ticket system. With the help of "Omskservices, LLC" we created our own ticket system. The ticket could be bought from a website or in any of numerous points of sale in the city via ticket selling machine. There was a service of ticket delivery as well.
Visitors were entering the venue through four automated entrances. "Megashow" staff was scanning tickets with special tools which compared the unique ticket code with the code on our server. Thus the ticket was approved to be original and valid or declined if it was fake or used before. Applying this system allowed to increase the traffic capacity at the entrances by 5 (!) times compared to existing at that time traditional system when the ticket is verified by eye and then the visitor gets a paper band onto his wrist. What is more, it eliminated all the risks of fraud at the entrances.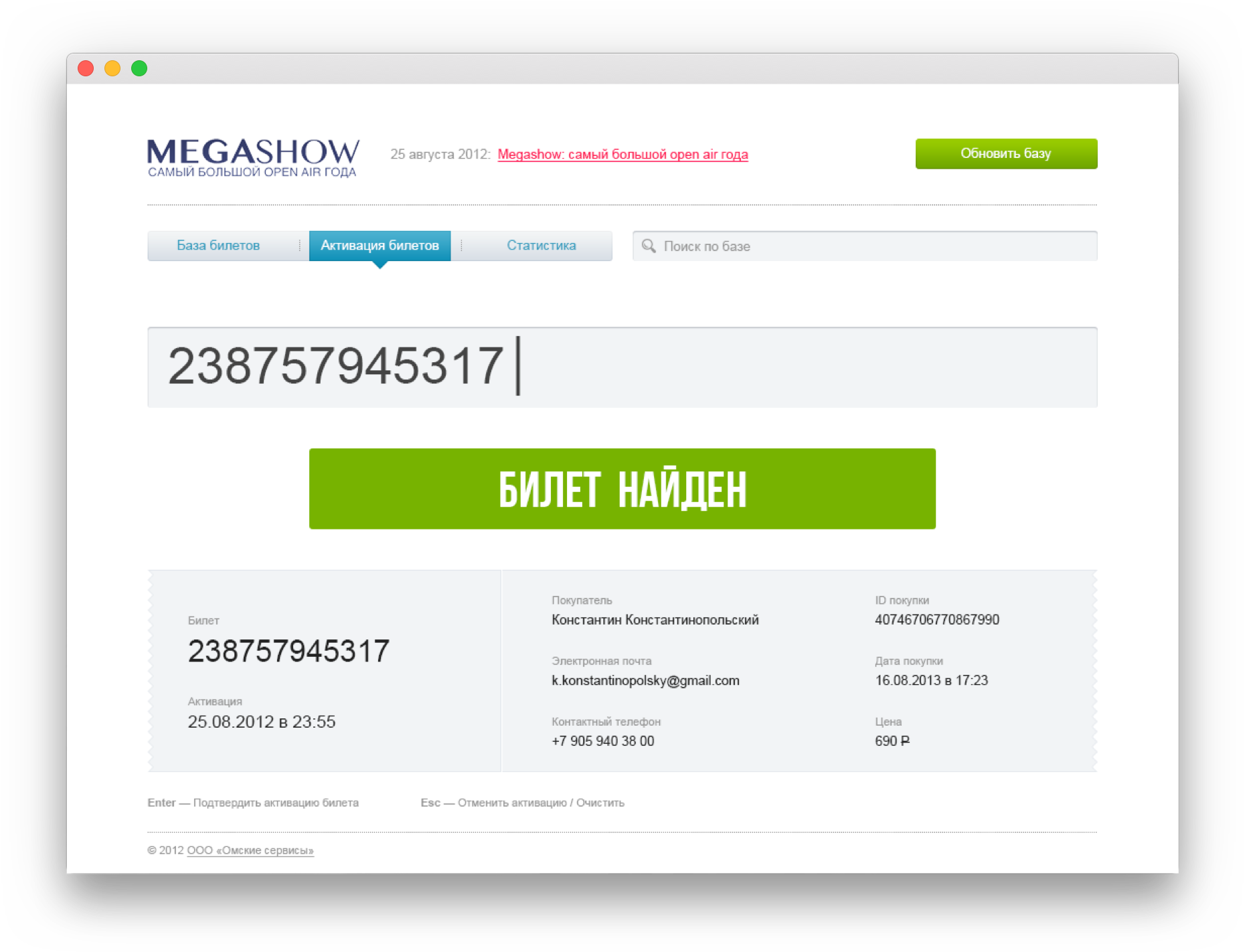 We hit the number of 3313 tickets sold already on the prior sale stage. This number made a record not only for dance events but for any other event or concert that was ever held in Omsk.
A couple of days before the event came thunderstorms and even hurricanes. It was impossible to build up the venue - the wind was too strong for cranes to install stage constructions. The temperature reached 6 C (!) at night. Megashow was at a stake. Nevertheless, considering irrevocability of the situation - performers on their way, tickets sold and according to survey people were going to come no matter what, the event was decided to be held. The decision was risky but it paid off after all. The things could not go without unexpected issues which we later officially commented on our website and official profile on social network. There we admitted our mistakes and explained some aspects of inner workings that people are usually not familiar with.
Let the show begin!
The main stage was traditionally ruled by house and trance. Here played Alex Morph from Germany, Matisse & Sadko, a duet from Saint Petersburg, who tore the dancefloor apart, popular Omsk DJ Filter and a legend of Russian electro music Volodya Fonar. The width of the main stage was 40 meters, it became the biggest stage in the whole history of events in Omsk.

Faberge dancefloor was built as a closed tent. There were tunes of deep house and tech house by Moonbeam, Ivan Spell, Jem and a Turkish performer Stefan Addo who became a sort of "musical discovery" of the event and took the audience with his specific tone.
Dancefloor Z was for techno lovers. The performers who played their sets here were Anton Neumbark, Unbalance, Misha Flash and Omsk crowd puller DJ Gavrila famous for his Admiral Project benefit nights.
Therefore, each "Megashow" guest found his own favourite dancefloor.
There was a separate area which was given to local entrepreneurs. It was a kind of a little market where visitors could buy souvenirs and taste various cuisines from Turkish kebabs to sushi and Italian pizza. The last was cooked in a real oven specially brought there. Also, visitors could attend tea ceremony, relax on bubbles in hookah lounge, shoot in a rifle range and participate in other activities. There was even a pool, but the temperature that went down to 12 C at night wasn't encouraging for bathing.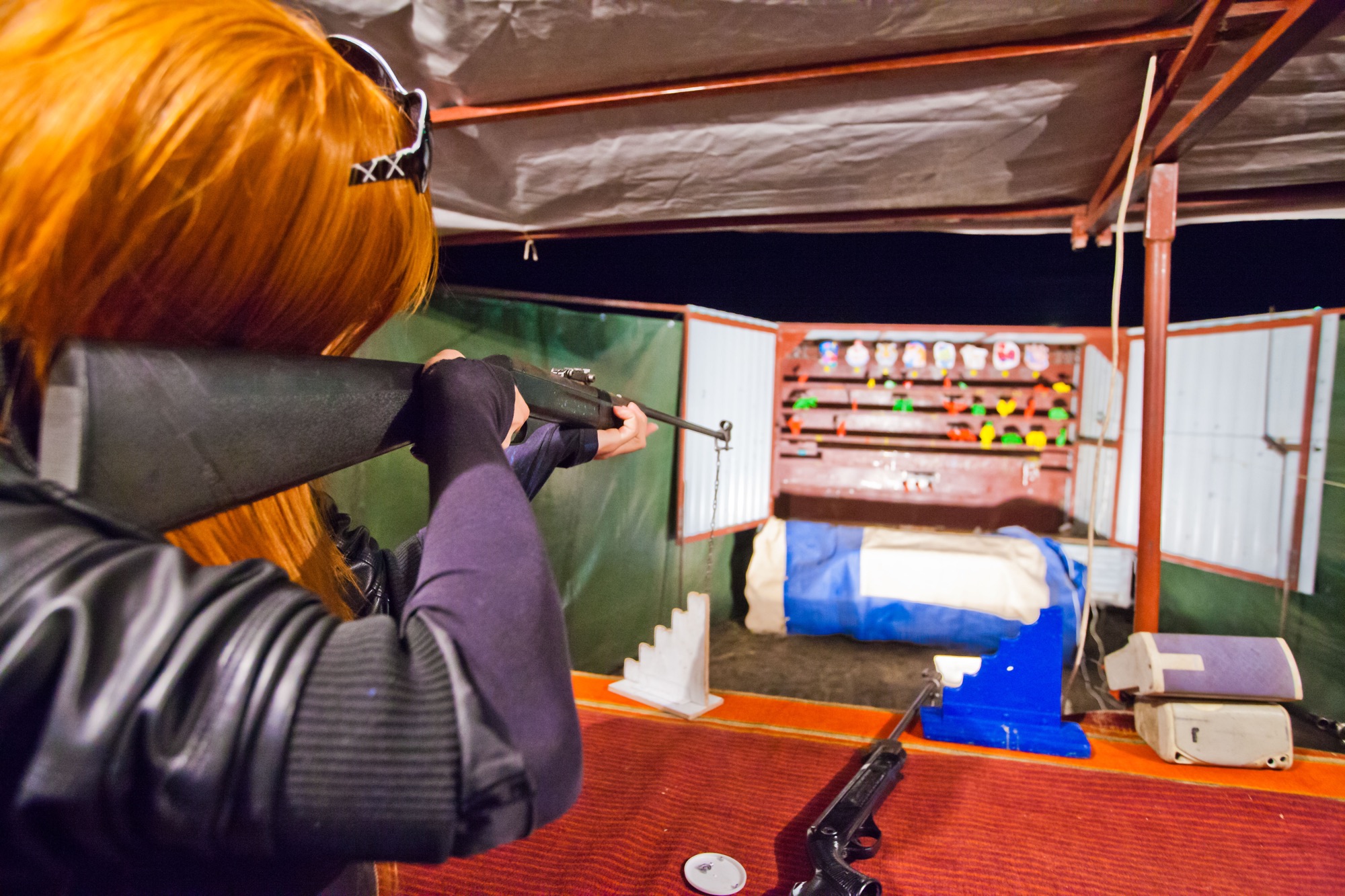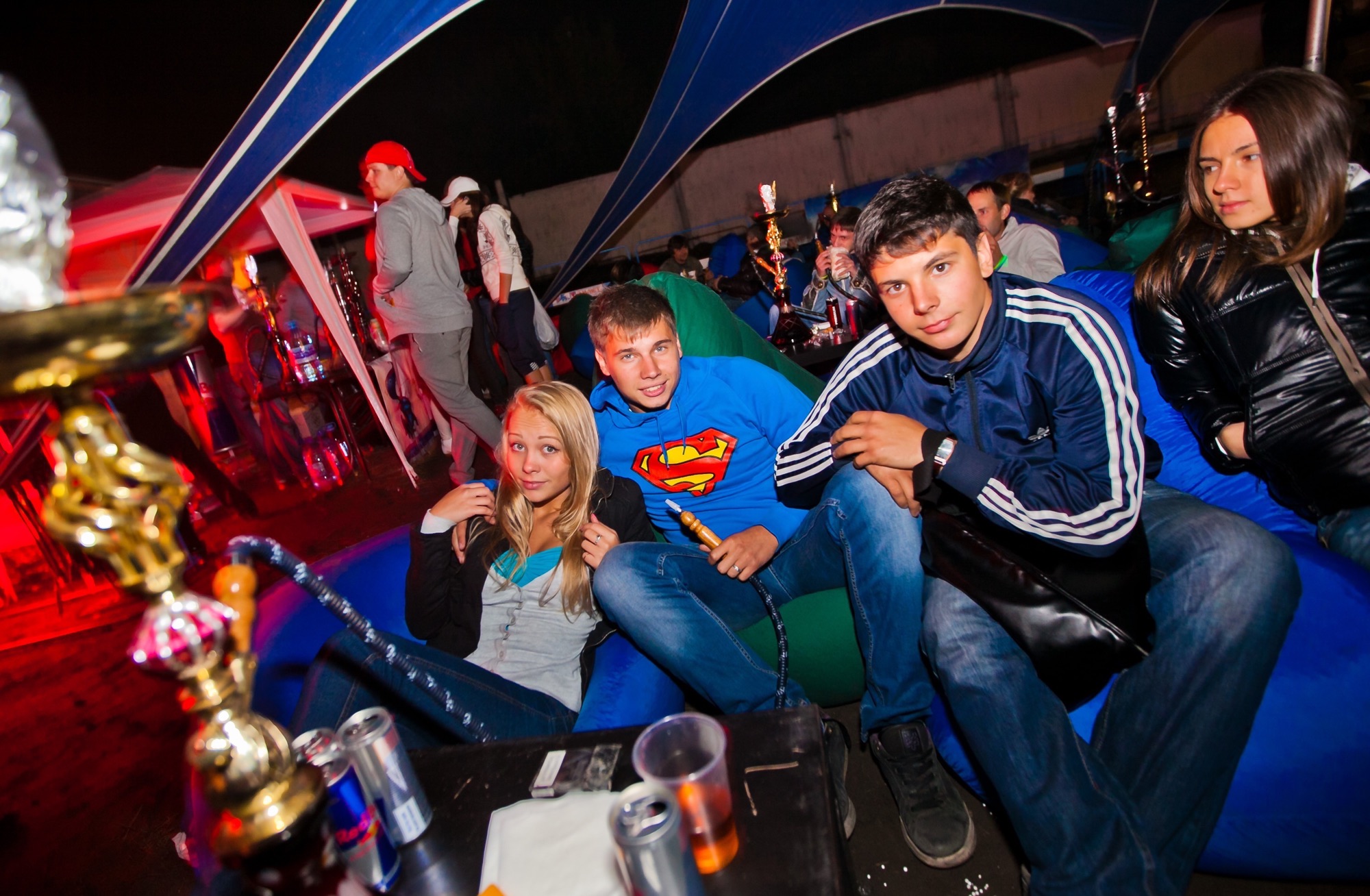 During the installation process a lot of decisions were reconsidered. Particularly, a few bars initially located in different parts of the territory were brought together to form one, 30 metres long bar. It occupied the area in front of the main stage and 25 bartenders to work there.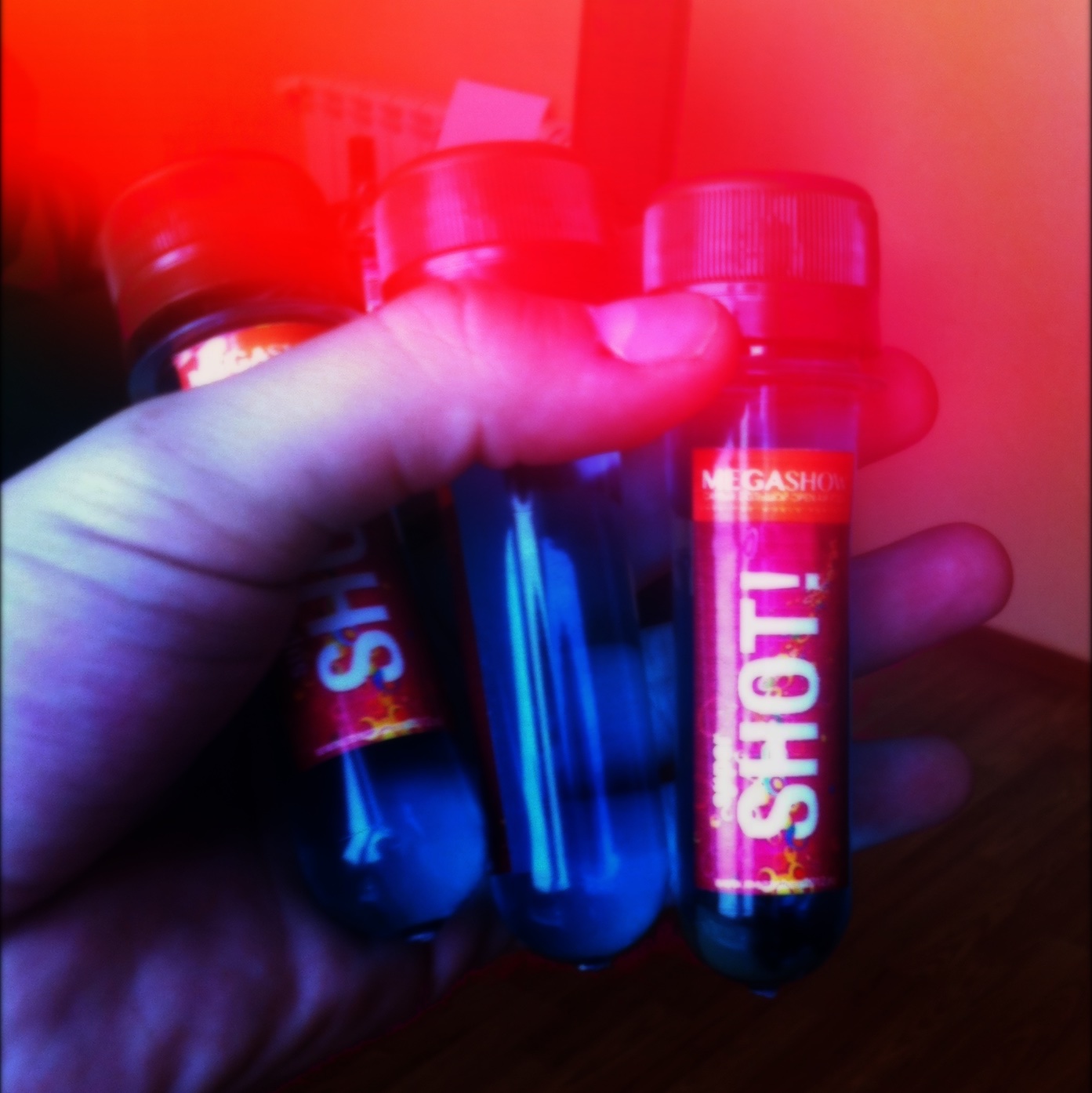 Those who were far away from the bar could get drinks from elf-dressed girls circling round the dancefloor and selling special "Megashot" cocktails. That was a mix of Blew Curaçao syrop and two alcoholic ingredients - ideal for a dancing clubber who has no desire of getting through the crowd to reach the bar. Around one thousand of these drinks were sold.
Needless to say that a guarded paid parking for 300 cars was also available.
Generally, "Megashow" had the form of, what is called, musical technopark, a lot of technical, video and light solutions were used. There was even Wi-Fi for visitors at the event, although it was only 2012.
The end!
At 5 o'clock in the morning nature finally overruled and it started to rain. "Megashow" finished. In total, the event attracted 4,500 people.
Epilogue
Along with "Megasow", a 5 year long story also came to an end. During that time we held 30 dance events, which together attracted 50,000 people. 5 out of these events became the biggest in Omsk.
We always cared the most about security, did everything to make our guests feel comfortable, secured and we succeed. Through all these 5 years no incident ever happened at the event.
Which of the events was the best? Each of them was unique in its own way, had its own atmosphere and energy. The most beautiful was, of course, "Babylon: MIke Shiver". The most happening — definitely "Admiral Project". The weirdest — parties of "Beach" project. The most advanced — "Megashow". The most exciting — undoubtedly "Heat". But if to choose one the most of the most, it will certainly be "Let's rock!". "Let's rock!" accumulated all we meant for a real, big dance event.
It was a marvellous journey full of adventures, obstacles and challenges. But no such power exists in the world that could stop a human wish to win, desire to create, try new and achieve the goals. A wish to make it better than before, to beat yourself, to find new and, at times, crazy solutions and giving that actually do it all... beautifully — that's what made our team special from all the others. Infinite gratitude to everyone who took part in the events: promoters, light and sound directors, engineering staff, bartenders, performers, dancers, administrative staff photographers, advertising agents and others.
Any event involves two parties: an organiser and a visitor. The challenge of an organiser is to take the music, light, all kinds of technical solutions, direction and turn it into a fairy tale to take a visitor to a different world. All the rest is to be done by visitors themselves. That special atmosphere is born only because of their own energy and when the energy of everyone comes together, it creates one super strong unity.
We are happy that we had the people who shared our values, views and ideas. Those ordinary people for whom in 2009 we made "Let's rock!".
Do you have photos or videos from this event?
Please contact me to negotiate the terms of me getting them.
Venue
Near "Armeiskii" neighbourhood
Vostochnaya St, 1/3, Omsk
Idea
Beat all the records

Performers
Alex M.O.R.P.H, Germany
Matisse & Sadko, Saint Petersburg
Володя Fonarev, Moscow
Moonbeam, Moscow
Anton Neumark, Saint Petersburg
Stefan Addo, Turkey
Ivan Spell, Saint Petersburg
Filter, Omsk
Женя Jem, Omsk
Unbalance, Moscow
Misha Flash, Omsk
Gavrila, Omsk
Links
Official web-site of the event